Right now, Tristan seems happiest with about 30 minutes of work at a time, which means that I get about 10 minutes of true work after his 15 minute warmup.
I'm coping with that, and with winter, by focusing in hard on tiny pieces of the first level tests. I printed them out and went to work with a highlighter, breaking them down into what we'd need to get better at before we do an actual test.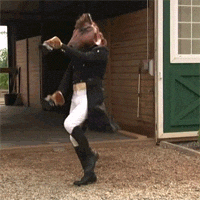 I just think you should all know that this is the first result for "dressage gif."
So, on that list we have:
10m half-circles in working trot
20m circle in stretchy trot
short diagonal of "lengthen stride in trot," so not a true extended trot but showing some distinction
a long side of "lengthen stride in canter," same as above
15m circle in canter
transition from working canter to working trot at X
leg yield, left and right
simple change at X
one loop serpentine in working canter
We've done all of these things before with varying degrees of success, correctness, and ugliness.
But: baby steps toward getting them really nailed. The difference between Training and First is going to show up in degree of collection and in quality of transitions, too, so we're working on those things.
Last week, it was the stretchy trot and the transition into and out of it. Then ten minutes of leg-yield, thinking about what Alli wrote a little while ago about sharpness of the hind leg off the leg + seatbone aid. So I worked hard on really, truly, stepping through behind but also maintaining quick feet.
Monday night it was walk-trot transitions, up and down and up and down: keeping him consistently in the contact but also sharp. In the warmup, I tend to focus hard on simple responsiveness to the aid on a totally loose rein, so he can do his best giraffe impression as long as he is moving his ass; that can take a little while to move to asking him to stay supple/in the bridle AND jumping right into it. And like any good transition, these feel the best when they are uphill.
I'm also incorporating tiny pieces of the responsiveness into my warmup, like when we move into picking up the bit I work a bit on leg yield response, even if for a stride or two and then praise.
We've actually always done 10m half circles as a diagnostic: those are another great warmup tool. They reveal all sins with depressing speed. Not enough bend? Not supple enough? Not quick enough behind? Too strung out? Too slow all around? Hot mess!
This weekend, I'll start to tackle the canter work with more focus, starting with transitions. Once I've run through each of the pieces in a schooling session I'll have a sense of what we need to work on, and then I'll start to pull them out interchangeably based on the horse I have that day. (I've already done that a bit, obviously – Monday's ride was supposed to be canter transitions, but we had a sharp drop in temperatures and Tris came out of his stall a little pissy and not terribly forward, not a great base for canter transitions.)
Any tips or thoughts on breaking down the test? Any of these movements you feel like you have some special insight into?