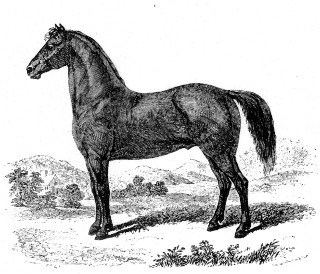 Longtime readers may remember that for some years now I have been poking away at a research project about the history of the first Morgan horse. It's a fascinating tangle of history and myth.
Earlier this year, I put a tentative shingle out to say that I would talk about my research if anyone was interested. I give other talks on other history topics fairly regularly as part of my job and as part of other research I've done, but I felt more nervous and guarded about the Morgan research. It's something that is well-worn territory for many people, many of whom feel very possessive and intense about it, and I didn't feel right stepping on toes. But finally I said to hell with impostor syndrome and put myself out there.
I did it partly to see what the audience would be, and partly to force myself to focus my thoughts and sharpen my research. And then 2019 happened, and, well, I haven't had nearly the time or mental space I thought I might.
But last Friday I gave my first talk. And having it on the horizon meant that a week and a half ago, when I sat down to coalesce all the thoughts and ideas and research notes I've been compiling for so many years now – I wrote 6,000 words in about five hours. I walked away from my computer, dazed, and then the next day wrote 2,000 more, and continued to edit and refine those words over the course of a week. Then I wrote a book outline, because spilling all that out on paper meant I could finally see the shape of the project.
My goal for 2019 was to write 20,000 words, and to be honest – I'd given up on that. But all of a sudden it feels within my grasp again. I still need to keep sitting down and pouring out the words, and I still have a million loose ends to chase, but writing that out – and then giving the talk itself – was a huge boost to my confidence.
Here's hoping I can keep building on that success, because I have two more talks scheduled for the fall, and I can feel, deep in my bones, the itch to write – finally.